Short to Medium Term Labeling
Magnetic Barcode Labels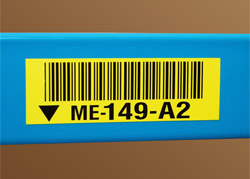 Magnetic bar code labels are typically used where layouts may change from time to time and flexibility is required in location or product identification. They are commonly used by 3PL operators whose customers' requirements may change every few years.
SlotLabel prints directly onto poly or retro-reflective label stock laminated to magnetic sheet. Poly magnetic labels can be printed in any of up to eight colors in a wide range of sizes.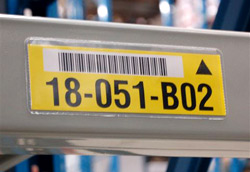 Vinyl Pockets with tag
An alternative to magnetic labels are pressure sensitive or magnetic vinyl pockets with thermal transfer or laser printed insert cards.
Labels with Removable Adhesive
The lowest cost option for flexible barcode labeling is poly or paper stickers with removable adhesive.
Blank Dry Erase magnetic labels
SlotLabel supplies white dry erase magnetic labels in a wide range of sizes for the convenience of quickly producing product ID or instruction labels in-house.
Request SamplesBack to Home Page