Floor Barcode Labels
Scanning suspended long-range retro-reflective placards is practical only if all trucks moving product in the bulk storage area are equipped with long range scanners.
The alternative, suitable for all scanners, is barcode labels applied on the floor.
SlotLabel's floor labels are sub-surface printed polycarbonate applied with epoxy or adhesive depending on the type of traffic they will be exposed to.

Heavy duty floor barcode label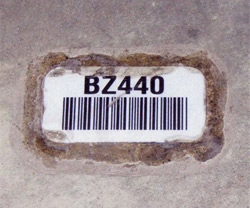 Heavy duty label after
18 months in a high traffic area
In fork lift areas the labels are put down in a pool of epoxy which is feathered out from the 0.020" thick label to be flush with the concrete, creating a tough ramp for pallets to ride up and over the label.
SlotLabel can supply a precision, dust free grinder to remove the label and epoxy should they have to be relocated or are no longer be required.
For clamp truck applications the label can be installed flush with the floor in a shallow ground recess and bonded with epoxy. If required the label can be ground out and the concrete patched with self levelling epoxy.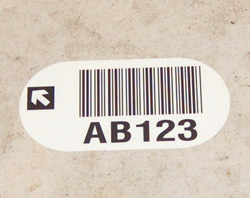 Medium duty floor label
For medium duty applications such as cart and pedestrian traffic the label is put down with an aggressive pressure sensitive adhesive.
Request SamplesBack to Home Page