Long Range Barcode Label Scanning
Bulk Storage and Staging Lane Placards
Long distance retro-reflective barcode labels mounted on placards are used to identify bulk storage areas, staging lanes and shipping doors.
Two-sided-staging placard
One sided and two sided long range suspended placards can be made so that the barcode label is angled 45º to the floor, maximizing the target area for the operator.
The bulk placards can be attached to existing steel or tensioned wire at the roofdeck, suspended by chain or attached to suspended conduit.
| | | |
| --- | --- | --- |
| One-sided long range placard | | Bulk placard with check digit |
Datamatrix long range placard with poly label
Operations using extended range imagers have the advantage of using smaller placards with poly or retro-reflective linear and 2D, PDF 417 barcode labels for long distance scanning at significantly lower cost.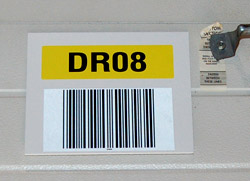 Door Placards
Some Warehouse Management Systems require that the door ID be scanned as each pallet is loaded. Door placards are often installed close to the bottom of the door so that when the door is rolled up the placards can be readily scanned as the driver approaches. Small retro-reflective labels can be scanned at around 15 feet.
Request SamplesBack to Home Page