Outdoor Barcode Scanning
Outdoor long range barcode label placard
The principal complexities for outdoor long distance barcode yard labelling are glare in direct sunlight and the harsh impact of UV light on label and placard materials.
SlotLabel's solution to eliminate glare from retro-reflective labels is to use an angled placard which keeps the barcode label in shadow and protects it from distortion by rain, snow and ice.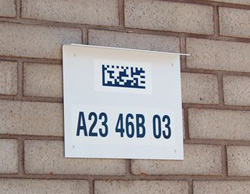 DataMatrix yard placards
An alternate solution for operators with extended range imagers is to use white poly labels, which are not susceptible to glare, for 1D or 2D barcode symbologies.
The placards can be provided with pre-drilled holes for installation on walls, chain link fence or posts.
U.V. resistant materials have been selected to maintain performance for at least five years.
Request SamplesBack to Home Page